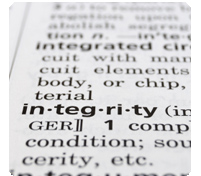 Government Program Integrity Solutions
According to Donald Berwick, former Administrator of the Centers for Medicare and Medicare Services (CMS), between $82 and $272 billion has been lost to medical fraud, waste and abuse. Combating this problem is a high priority and many agencies like CMS are turning to contractors to help identify and stop improper payments from being made.
IntegrityM specializes in doing exactly this. Our team of healthcare experts, data analysts, and former government program managers is able to approach our work from many different perspectives to find the root of the problem and solve it.
Learn How Our Program Integrity Solutions Are Right For You
Discuss Your Needs with an Industry Expert
Program Integrity Solutions
IntegrityM's multi-disciplinary staff uses sophisticated data analysis and advanced statistical methods to identify program vulnerabilities, potential overpayments, and potential fraud and abuse. Our analyses include:
Our audit services include:
Program performance audits
Assessment of existing audit plans and procedures
Design, development and implementation of audit programs and protocols
Credentialing audits
Claims audits
Regulatory compliance and enforcement audits
Training
Our investigative team conducts confidential investigations of allegations ranging from misconduct to fraud.
Program Integrity Contract Examples
IntegrityM has supported various federal government program integrity efforts including assisting agencies such as CMS and the US Postal Service with specific data analysis, audits and investigation services. Examples of specific contracts we have been involved in include:
Medicaid Integrity Contractor (MIC)
Program Safeguard Contractor (PSC)
Zone Program Integrity Contractor (ZPIC)

Trusted Third Party

One PI System Support
Our Unique Approach to Program Integrity Consulting
With a staff of investigators, data analysts, and clinicians experienced in an array of CMS Program Integrity contracts, Medicaid Integrity programs, unified program integrity contracts (UPICs) and Program SafeGuard Contracts, IntegrityM is able to utilize our broad expertise to develop a very focused or an enterprise approach, to aiding program integrity contractors in identifying and preventing fraud, waste, and abuse involving healthcare claims.
For government programs, whether the claims involve Medicare, Medicaid, or both, IntegrityM is able to provide staff extenders, or work as standalone units, to review claims to determine whether claims were improperly paid and whether overpayments are due.  Our staff can provide consulting assistance or expert witnesses to program integrity contractors and law enforcement agencies in the event of civil or criminal proceedings.
IntegrityM's GSA Schedule Contracts
IntegrityM holds several GSA contracts. Our primary GSA Schedule NAICS code is 541611 – Administrative Management & General Management Consulting Services, however we hold several additional contracts including:
541690 – Other Scientific and Technical Consulting Services
541990 for All Other Professional, Scientific, & Technical Services, and
541618 – Other Management Consulting Services
For a complete list of codes and additional information about IntegrityM, please visit our GSA contract vehicles page.
Contact Integrity Management for Program Integrity Services Today
If you'd like to speak with our Program Integrity consulting experts, call (703) 683-9600 or click here to fill out our form.
Return to the Integrity Management Services Homepage