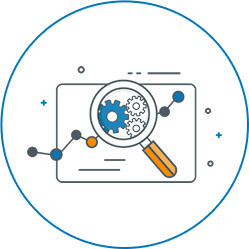 Let's get to the bottom of this.
Our investigators combine sophisticated data analysis with key informant interviews and a rigorous review of legal and regulatory requirements to examine and resolve complaints and allegations of fraud and abuse. With decades of audit experience in the government and private sector, and expertise in Medicare part A, B (DME), C, and D, IntegrityM investigators have contributed to the identification and resolution of numerous program irregularities. Our findings are suitable for both administrative or criminal follow-up action. As necessary, we liaise with law enforcement officials, the Office of Inspector General, Federal Bureau of Investigation, Department of Justice, state agencies, and Attorneys General.
Detect and resolve fraud in healthcare programs.
Improper payment identification
Criminal enterprise association
Criminal case adjudication and administrative action
Law enforcement and OIG case referral
Our team makes all the difference.
IntegrityM provides a range of standard, focused, and complex investigative support – enabled by our diverse pool of experienced investigators. Our fraud auditors and investigators have senior-level experience across government agencies, including the National Reconnaissance Office, National Geospatial-Intelligence Agency, Government Accountability Office, Department of Homeland Security, United States Postal Service, Federal Bureau of Investigation, and Office of Inspector General. Our depth of familiarity and expertise in enforcement initiatives gives us valuable insight into managing fraud activities, particularly as it relates to Medicare and Medicaid.
Speak with an expert in fraud and abuse investigations.
Get in touch with IntegrityM by dropping us a note or giving us a call at (703) 683-9600.
Imagine what we can do together.
Partner with IntegrityM as a prime or subcontractor.
Focus on the results. We'll handle the rest.
Automate and outperform with our powerful statistical sampling and extrapolation software that's built to lighten your workload.
Like a challenge?
We're always on the lookout for talented investigators with proven ability to execute successful law enforcement referrals.
If you have what it takes, explore a career with IntegrityM.