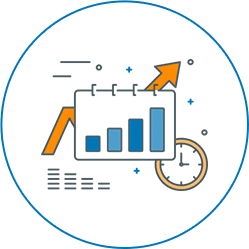 Understand. Analyze. Inform.
We go beyond traditional data analysis to help Federal and State agencies leverage their data output – analyzing, interpreting, prioritizing, and harnessing data to give key decision makers the insight they need to operate efficiently. At IntegrityM, we apply our proven subject matter expertise to clean and prepare data for analysis, drilling down on the technical side to develop algorithms and models for the detection and prevention of waste, abuse, and fraud.
We're trending.
Don't miss the forest for the trees. IntegrityM locates outliers, identifies emerging trends, and uncovers statistical meaning from complex data sets.
We specialize in healthcare data analysis for government and private enterprise.
IntegrityM maintains a record of success strategically combatting waste, abuse, and fraud across Medicare, Managed Care, and Medicaid programs. If your organization or State agency relies on clean data for healthcare benefits modeling and evaluation, IntegrityM is here to support you with program integrity investigations and administration.
Our approach to data analytics is rigorous, flexible, and scalable.
We act as an extension of your team, augmenting limited internal resources to provide best-in-class statisticians and data analysts when you need them most.
Working within your existing reporting tools or by building our own, we create custom models to address waste, abuse, and fraud – preventing payment of high-risk claims until validation.
We continually test and refine our models based on active user feedback and ongoing data findings to defend the integrity of the results and recommendations.
Our data analyses include:
Descriptive statistics
Predictive analytics
Time-series analysis
Association studies
Regression analysis
Cluster analysis
Outlier analysis
Data analytics use case:
Tech firms tap into our years of experience to help them break into the healthcare data analysis market. By leveraging our subject matter expertise, developers are better able to build and perfect emerging tools and programs. We act as usability testers for statistical analysis tools of all kinds, and then prepare recommendations to streamline the flow of entry points, organize data for intelligent applications, document processes, and optimize the user experience.
Imagine what we can do together.
Partner with IntegrityM as a prime or subcontractor.
Focus on the results. We'll handle the rest.
Automate and outperform with our powerful statistical sampling and extrapolation software that's built to lighten your workload.
Think you can help?
We're always on the lookout for talented data analysts and statisticians with expertise in Medicare, Medicaid, and Managed Care.