Telehealth is expanding rapidly and transforming healthcare. According to the Medicare Payment Advisory Commission, the number of telehealth visits grew by over 500 percent from 2008 to 2014. Additionally, many commercial insurers cover — and many health systems offer — a variety of telehealth services. The industry has seen impressive advancements in telehealth technology, and as a result, the definition of telehealth is continuously evolving and can vary depending on the context in which it is used.
Telehealth can involve a number of different types of care. For example, a patient can use technology, such as text, email, or video conferencing, from their home or another location to connect to a clinician. Clinicians can also monitor a patient through two-way video or electronic monitoring equipment that transmits data from the patient's location to the clinician. Today, telehealth technology can be used to provide retinal scans for rural diabetes patients or to allow a group of specialists to have virtual meetings to review medical findings and treatment options for cancer patients. Developments in telehealth technology are exciting and could lead to better, more efficient medical care, especially in places where medical expertise is difficult to access. However, the coverage of these technologies varies widely among payers.
Medicare, for example, has very specific coverage rules for telehealth. It is important to understand how Medicare currently defines telehealth services to ensure that the services are being billed and paid appropriately in the complex and changing telehealth market.
Medicare covers a limited number of telehealth services under Part B. For eligible telehealth services, practitioners use a telecommunications system to substitute for an in-person visit. However, Medicare rules stipulate the type of technology that can be used, the services covered, physicians that may provide telehealth, and the location of the beneficiary. Medicare covers a specific list of services provided via telehealth including general evaluation and management, services related to kidney disease, behavioral health services, substance abuse assessment and interventions, nutrition therapy, pharmacological management, cardiovascular disease behavior therapy, and obesity counseling. It is important to note Medicare only covers telehealth services if they are provided using an interactive audio and video telecommunications system that permits real-time communication between the practitioner at the distant site and the beneficiary at the originating site.
---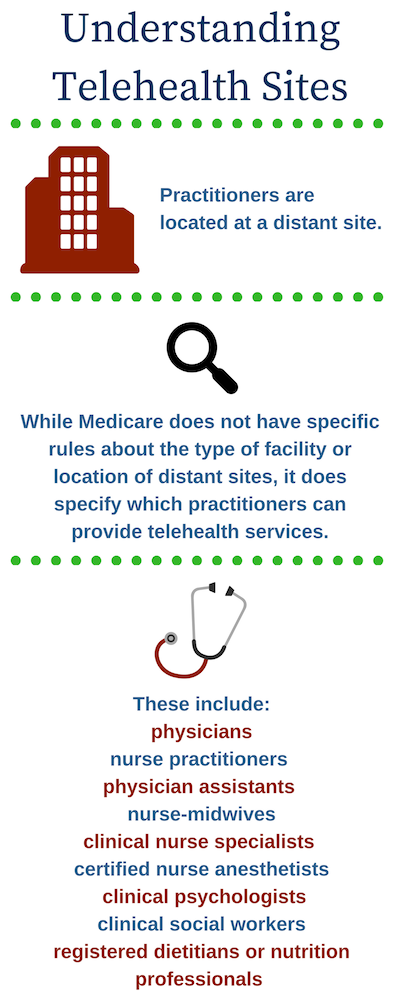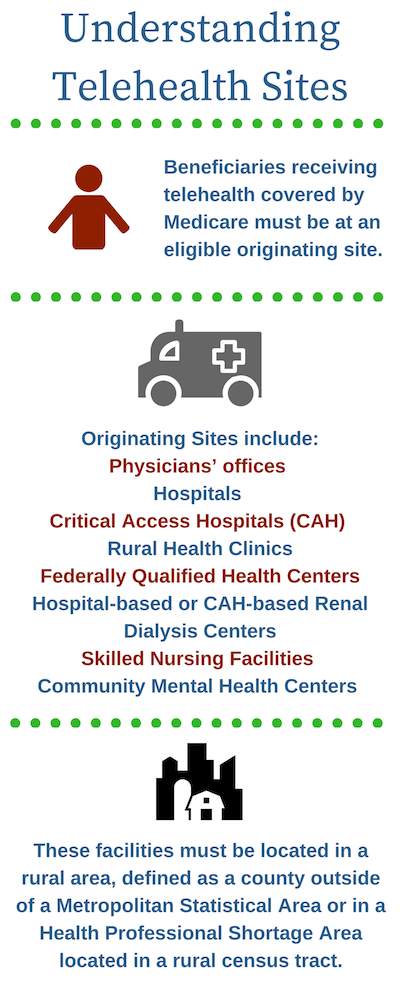 ---
Medicare also covers some remote patient monitoring services (e.g., remotely interpreted imaging tests, mobile cardiac telemetry), but does not consider these part of the telehealth benefit. The limited nature of Medicare's telehealth services leaves them vulnerable to inappropriate payments. If beneficiaries are not in an eligible originating site for the service then Medicare cannot cover the service. Additionally, if the technology being used does not permit real-time communication between practitioners and beneficiaries, then the service is not covered. Some data-driven approaches to identifying potentially inappropriately paid telehealth claims include:
Determining whether beneficiaries live in a rural area.
Identifying providers billing for in-person and telehealth services on the same day for the same beneficiary.
Identifying originating site claims with no matching distant site claim.
IntegrityM Can Support Your Telehealth Claims Efforts
IntegrityM's data analysis team has experience analyzing Medicare and Medicaid telehealth claims to assess program vulnerabilities and identify potential inappropriate payments. Our team of regulatory and data analysts can help your organization stay up to date with the evolving telehealth landscape and ensure that telehealth services are being reimbursed appropriately. For additional information on how we can assist your organization, contact us online or call (703) 535-1400.