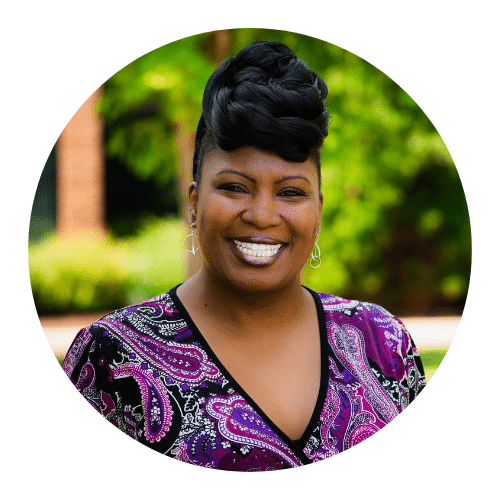 Author: Natasha Williams, Chief Operating Officer, IntegrityM
A well-known truism from philosopher Aristotle, is: "We are what we repeatedly do. Excellence is not an act, but a habit." When running a small business, your world is governed by commitment to excellence and continuous improvement of employee engagement, customer service, operations, program delivery, etc.
Executives are forever navigating the tension between ambition and limitation, refining their approach to deliver maximum impact without compromising company culture, employee morale and client satisfaction. It is no job for the faint of heart.
There is no magic pill that provides an instant solution to achieving excellence in the day to day operations. In fact, expensive tools and cutting-edge technology can sometimes prove to be bigger distractions than help. In our experience, it has been far more impactful to focus on the ingredients that create a strong operational core.

One particularly vital cornerstone involves creating a living Quality Management System (QMS). Used effectively, a fully deployed QMS is a powerhouse for minimizing waste, lowering costs, raising morale, fostering a solid reputation, and super-charging efficiency. This four part series will serve as a guide – outlining the main components needed to build an effective quality management system: (1) Foundational Philosophy, (2) Internal Architecture, (3) Operational Roadmaps and (4) External Assessments.

PART I: FOUNDATIONAL PHILOSOPHY

Excellence is cumulative; in order to achieve it, its pursuit must be woven into the DNA of all business operations. Any successful QMS begins with leadership commitment and employee buy-in to live out the principles in the day to day.
IntegrityM has achieved this through embracing a Total Quality Management (TQM) philosophy, a system of management based on the principle that every individual is committed to, and responsible for maintaining high standards of work in every aspect of company operations.
Per the American Society for Quality, the eight primary elements of TQM are customer focus; total employee involvement; process-centrism; systems integration; strategic, systematic approach; continual improvement; fact-based decision-making; and communications. All of these elements are crucial pillars to successful business operations.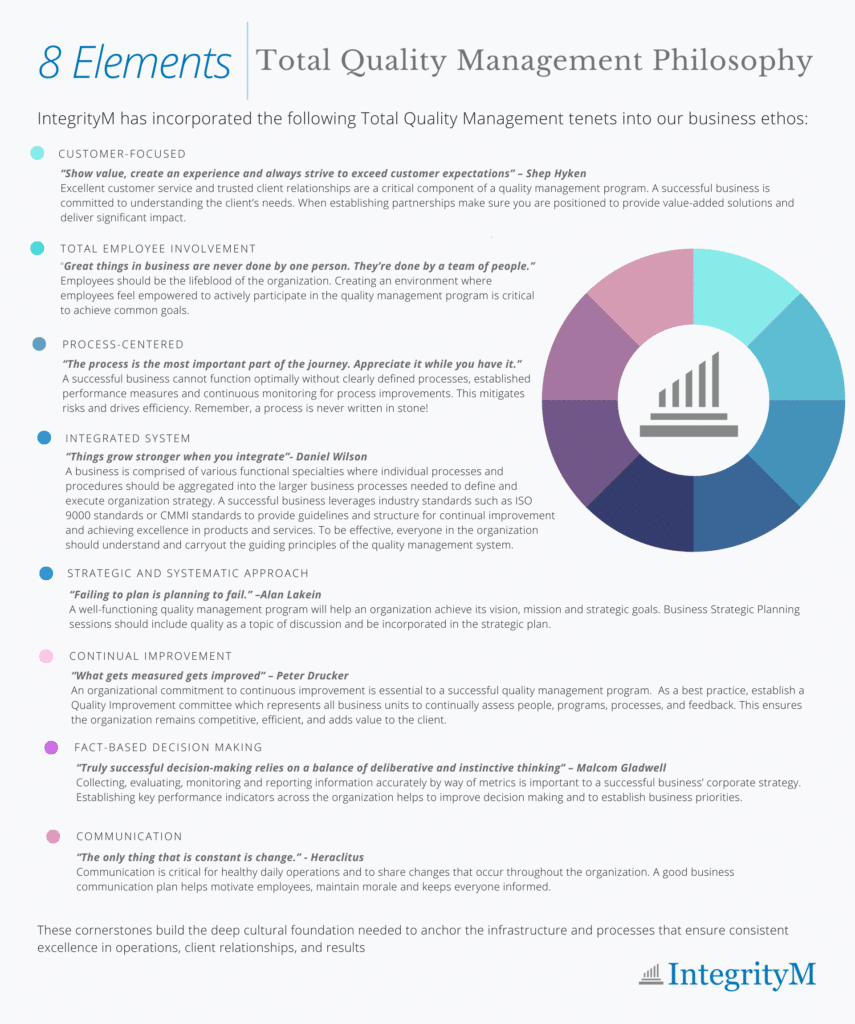 Once these principles have been embraced by leadership, an organization can begin to formalize and codify their commitment to quality. This will be covered in Part II of this blog series: Internal Architecture.

---
Integrity Management Services, Inc. (IntegrityM) is a certified women-owned small business, ISO 9001:2015 certified, CMMI Level 3 Services and FISMA compliant organization. IntegrityM was created to support the program integrity efforts of federal and state government programs, as well as private sector organizations. Results are achieved through consulting services such as statistical and data analytics, technology solutions, compliance, audit, investigation, medical review and training..